Event Details
2014 Players Showcase for Girls
Las Vegas, NV
Start Date: March 21, 2014
End Date: March 23, 2014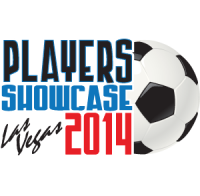 Event Information
The PLAYERS COLLEGE SHOWCASE Tournament Committee invites you to join some of the nation's top boys and girls youth teams and over 350 college coaches for a spectacular soccer event in Las Vegas.
The girls PLAYERS SHOWCASE tournament is held in conjunction with the USYS National League event on March 21-23, 2014.  Over Three hundred teams representing the nation's best players including sixty four (64) teams representing the USYS National League will compete in this year's event. Over 400 college coaches and scouts will be on hand to evaluate talent.
Players Showcase provides an unparalleled opportunity for players to showcase their talent and college coaches to evaluate and scout players. A great deal of care and research is made in scheduling the best match ups to ensure the highest exposure for each individual player.
We are also conscious of the economic situation in the country and have made every effort to make your trip as affordable as possible. You can access the tournament authorized travel coordinator from the Hotel link above or by clicking here.